Thanks to today's advances in orthodontic technology, Crow Canyon Orthodontics can provide our patients with more options when it comes to wearing braces than ever before. While traditional metal braces are still widely used, clear braces are very popular with teens and adults who are self-conscious about wearing braces, along with Invisalign removable aligners, the "braceless" alternative to straight teeth. Dr. Arash Abolfazlian will help you determine which treatment option is right for you.
Metal Braces: There's Always a Silver Lining
The most common type of braces are the traditional silver or metal braces. But, these aren't the braces you may have heard questionable stories about! With today's advanced, space-age technology, these sleek and stylish brackets are comfortable and move your teeth more efficiently than ever before. Developed with surgical grade stainless steel these braces straighten your teeth using metal brackets and wires that are less noticeable. Many of our patients choose to add their favorite team colors to their braces or celebrate special events by showcasing unique color combinations. Colors are simple elastics added to the braces and may be changed at each appointment.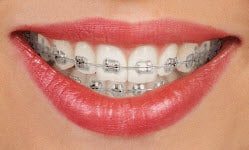 Ceramic Braces: The Clear Choice
Some patients prefer a more esthetic option. For patients who want orthodontic correction, bit do not want the look of metal braces on their teeth, we offer clear or tooth-color braces are made of ceramic or porcelain materials. These braces aren't as visible and are a great option for our adult patients. If you choose our esthetic braces, our team will be happy to answer all of your questions and cover all aspects of the difference in care.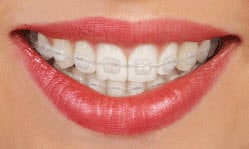 Invisible Braces: Align with Comfort
Clear appliances, such as Invisalign, use a series of invisible, removable, and comfortable aligners to straighten your teeth. No one can tell you are wearing those aligners because they are invisible! Invisalign aligners are removable so you are not limited in what you can eat and drink during treatment. Plus, brushing and flossing is less of a hassle. The aligners are comfortable and have no metal to cause mouth abrasions during treatment.
Schedule your complimentary evaluation with Dr. Arash today! We will discuss which option is best for you!