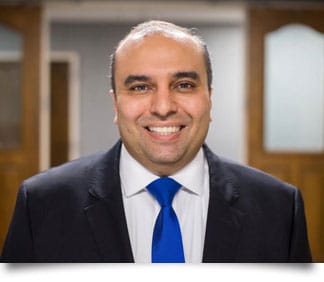 Similar to Dr. Arash, Dr. Touni is a Diplomate of the American Board of Orthodontics, a distinction only 1 in 3 orthodontists can claim.
"My goal is to provide the best possible care to my patients, to treat them like family members through sincere communication, and continuous education in every visit."
Dr. Touni started his dental career as a general dentist, graduating dental school in 1994. After being a general dentist in private practice for many years, he realized that his true passion lied in orthodontics. He believes that orthodontics perfectly bridges art and science as positive outcomes are not simply due to teeth being straight, but in the harmony and balance of the teeth, the jaws, and the facial profile.
In 2010 Dr. Touni sold his practice in San Jose and began a fellowship program for two years doing research at the University of the Pacific Dental School, in hopes of becoming an orthodontist.
Upon completion of his fellowship program in 2012, Dr. Touni was immediately admitted to the orthodontic residency program at University of the Pacific.
In 2014, Dr. Touni earned his Certificate in Orthodontics and Masters of Dentistry and became a Diplomate of the American Board of Orthodontics in 2015.
Dr. Touni comes to us after practicing Orthodontics in nearby Sunnyvale where he is an active member in the Santa Clara Dental Society.
"My goal is to cultivate a friendly and dynamic practice that gives care and attention to each patient on an individual level, with an appreciation for advancing the art and science of Orthodontics."
Dr. Touni is married to his incredibly supportive wife, Dina, and has two wonderful daughters, Ayah and Miriam, as well as a beautiful puppy named Kiko! Creating memories with them is his favorite thing to do.
In his spare time, Dr. Touni is an admitted soccer fanatic! He genuinely loves soccer as a passion. If you are a soccer fan, please feel free to share your favorite teams, players, or moments with him!
Please join us in welcoming Dr. Touni to our practice!
The team at Crow Canyon Orthodontics